Jewish Heritage Travel: 25 years on
Ruth Ellen Gruber
writer, journalists, and researcher
27.7.2017, 18:30
Ratusha restaurant at pl. Rynok, 1, Lviv
This year marks the 25th anniversary of the first edition of Ruth Ellen Gruber's book  Jewish Heritage Travel: A Guide to Eastern Europe, the first and most comprehensive Jewish travel guide to the region. It also marks the 15th anniversary of her book Virtually Jewish: Reinventing Jewish Culture in Europe, in which the author examined many key questions inherent in the transformation of neglected, even devastated post-Holocaust Jewish heritage sites into tourist destinations. Over the years, she has been a hands-on protagonist in the process, traveling thousands of miles to locate and describe sites, trace Jewish heritage routes, and explore contemporary contexts. She has also led Jewish heritage tours and helped individual travelers devise itineraries.
The changes since Ruth Ellen Gruber began researching Jewish Heritage Travel in 1989/1990 have been dramatic. Back then, almost any visit to a Jewish heritage site in the region was a form of "Dark Tourism." The evolution since then has been dramatic, regarding infrastructure, information sources, agencies of display and, importantly, deep-seated attitudes to travel, heritage, and Jewish presence (and fate) in the region.
Ruins still abound, and many sites and experiences remain deeply tragic. But scholars, genealogists, tour guides, governments, cultural and heritage entrepreneurs have studied, mapped and documented almost everything, opening them up for unprecedented travel opportunities and commercial touristic exploitation.
Local guidebooks, web sites, and other resources provide a wealth of information. Once tragically neglected Jewish heritage sites have become attractions, increasingly on mainstream travel itineraries that mix the Dark with the Destination: one glossy brochure promised that a four-star Jewish Heritage Cruise down the Elbe River would "look both backwards and forwards, reviewing the rich Jewish culture of key cities, confronting the atrocities of the Second World War, and embracing a positive future."
The presentation examined these changes, focusing on certain places and on certain specific facets (such as restored synagogues and cemeteries, and new Jewish heritage routes). She also reflected on how the concept of "Jewish heritage" has evolved; how "new authenticities" and "real imaginary spaces" have developed via Jewish museums and culture festivals, the commodification of Jewish culture, and the growth of a commercial Jewish heritage tourism industry.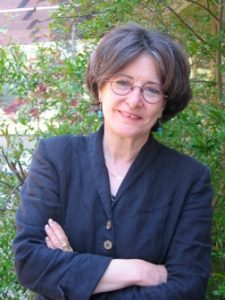 Jewish Days is a public program for general audiences. It is related to two other projects of the Center for Urban History - Summer School in Jewish History and Multicultural Past, held annually since 2010, and the initiative Space of Synagogues: Jewish History, Common Heritage and Responsibility (in partnership with the Lviv City Council and the German Society for International Cooperation, GIZ).
Credits
Cover Image: Stupava interior / Ruth Ellen Gruber
Image Gallery by Iryna Sereda