Rachel Auerbach - In Search for Female Public Intellectuals in the Interwar Yiddish Culture
Karolina Szymaniak
Jewish Historical Institute in Warsaw, Poland
2.8. 2016
Ratusha Restaurant (Rynok Sq. 1), Lviv
Rachel Auerbach is best known as the one of the chronicler of the Warsaw ghetto, one of three surviving members of the dr. Ringeblum's Oyneg Shabes group.
She was born in Lanowitz (mod Ukr., Lanovitsy), a small village in Podolia. Although the family later moved to Lwów, her rural childhood left her with a lifelong love of Yiddish and a deep interest in Jewish folklore. Auerbach studied psychology and philosophy at Lwów University and also collaborated in Tsushtayer, a journal founded by Melech Ravitch to foster Yiddish culture in Galicia, a region where most of the Jewish intelligentsia spoke Polish. Moving to Warsaw in 1933, Oyerbakh began to publish articles on literature, theater, and psychology in the Polish-language Jewish newspaper Nasz Przegląd and in the Yiddish press.
Very little is known about her fascinating prewar activities and writings. Looking at her projects and essays, literary and social criticism, a lecture showed how Auerbach, who herself experienced both social exclusion and personal violence, tried to redefine and broaden the terms of public debate and activism, to allow for inclusion of and more visibility for female actors.
The lecture was held in English with simultaneous translation.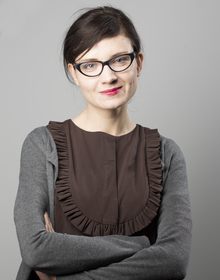 Jewish Days is a public program for general audiences. It is related to two other projects of the Center for Urban History - Summer School in Jewish History and Multicultural Past, held annually since 2010, and the initiative Space of Synagogues: Jewish History, Common Heritage and Responsibility (in partnership with the Lviv City Council and the German Society for International Cooperation, GIZ).
Credits
Cover Image: facinghistory.org
Image Gallery by Iryna Sereda