(Not) Visible Stories: Women in Photographs from the First World War
Malgorzata Radkiewicz
Institute of Audio Visual Arts, University of Krakow
14.5.2015
Center for Urban History, Lviv
There are lots of photographs taken during the First World War documenting mostly important historical events and their consequences. The main figures in these pictures are mostly men, who were actively participated in the war as soldiers. However, there are photographs showing women in unusual situations and roles – as participants of the war, nurses or doctors. It happens, that life stories of these women are mostly unknown, or rather their stories have been re-discovered recently.
The presentation had two aims, the first one is to re-discover women stories of the First World War, following visual archives, the second one is to demonstrate how to analyze images from critical (feminist) and gender perspective, in terms of meanings and narrations often not seen for the first sight.
The lecture was held in Polish with simultaneous translation.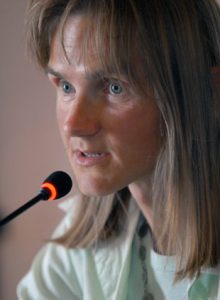 Lecture is a part of the series of events in support of the exhibition "The Great War 1914 - ... Individual and Global Experience".