Map Wars of Darkness and Color: The Nationalization of Transnational East European Geographers during the long Great War
Steven Seegel
University of Northern Colorado
26.3.2015
Center for Urban History, Lviv
When in 1899, Joseph Conrad (aka Jόzef Korzeniowski) published his classic novel Heart of Darkness, he speculated about the genuine difficulties of living in Europe's great power world, in sites of imperial conquest and colonial violence, and where all the world's continental territories were colored in irreversibly.
The lecture took Conrad's warnings seriously by looking at the modern European aspects of Ukrainian history in the long course of World War I, into the 1920s and beyond, and treating microhistorically both the construction of geographical knowledge and the undisclosed, interior personal lives of significant men who imagined as fixed and sovereign the political settlements of their populations and borders.
In particular, Steven took the special cases of the U.S. geographer Isaiah Bowman (1878-1950), the Chief Territorial Specialist and member of the Polish Boundary Commission at the Paris Peace Conference in 1919, together with the revisionist geographer Albrecht Penck (1858-1945) of Germany, Eugeniusz Romer (1871-1954) of Poland, and Stepan Rudnyts'kyi (1877-1937) of Ukraine. By advancing the concept of the geo-body supposed by the Thai dissident historian Thongchai Winichakul, Steven reexamined these geographers' contacts (or, as it were, non-contacts) with each other.
The lecture therefore illustrated visually the European cross-border copying of map patterns as a modern graphic art, and how the contested mapping of Ukraine's revolutionary projects in World War I and its immediate aftermath can be reframed. The method of spatial prosopography which the researcher introduced for the Great War was offered with respect to a "map wars" everyday gender history of geographers' transnational lives, places, homes, mobility, and relationships. He showed the nationalizing contexts, causes, and effects of the Great War in their scientific lives and "expert" careers, and as a way to understand the broad persistence of Europe's colonial knowledge, ethnocentrism, territoriality, and revisionist geopolitics in Ukraine, Russia, and East Central Europe up to the present day.
Lecture was held in English with simultaneous translation.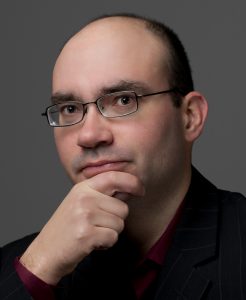 Lecture is a part of the series of events in support of the exhibition "The Great War 1914 - ... Individual and Global Experience".
Credits
Сover Image: General map of Ukraine by Guillaume de Beauplan, 1648