The Vezha Photo Group: Personalities, Approaches, Methods
15.10.2020, 18:30
Center's conference room
In the late 1970s and early 1980s, there was a photo group in Lviv where the members were not willing to join the two big photo clubs available in the city (functioning at the House of Culture of Railway Workers, and at the House of Culture of Construction Industry Workers). The group settled down in the facilities of the Union of Architects — The Gun-Powder Tower at Pidvalna Street. Hence, its name – "Vezha" (Tower).
During the meeting, we shall talk about the creation, activities, methods, and approaches of The Vezha Group with its founder Mykhaylo Frantsuzov and the group member Oleh Verbytskyi.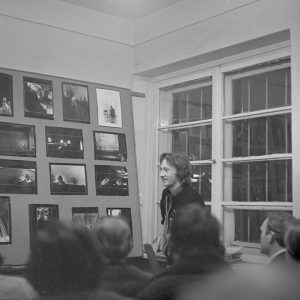 Due to quarantine, the number of participants is restricted. To participate in the talk, please register.
If you change your plans and you are not able to make for the meeting, please, notify at the tel: +38 032 275 17 34.
We are going to stream the talk online on the Center's Youtube channel (see the video below).
This meeting is part of the series of talks at the exhibition-as-research for the photoarchive of Vil' Furgalo "processing."
Credits
Cover Image: Members of the Tower Photo Group, author Mykhaylo Frantsuzov
Portraits were given by Mykhaylo Frantsuzov
Gallery: Bohdan Yemets