Serhiy Yakunin | A conversation at the exhibition
8.10.2020, 18:30
Exhibition Hall, Center for Urban History
Serhiy Yakunin is a legendary personality in the city's creative cohort. In the early 1970s, he became a student of Lviv Institute of Applied and Decorative Art (presently – Lviv Art Academy), where he studied sculpture. This kind of media defined the artist's further aesthetic category. During his life, he interacted with some genius artists. Many of them live in different parts of the world today, but he still resides at Svobody Avenue in Lviv welcoming the daily sunrise from behind the ancient Jesuit cathedral.
Yakunin's art method resembles of the philosopher's effort. The author's works reveal the perception as a creative aсt where thinking is a response to the world, and time can be expressed through adding structure to the indefinite. The method is conceptual, and the human is an authentic being in this process who own (actualize) themselves through action, thinking, and time.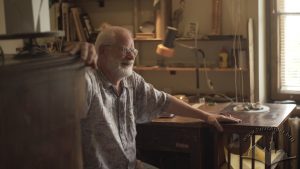 At the meeting with Yakunin, we shall watch a video story about an artist made within the "City and Art on the Edge" project. We shall talk about how artists of the 1980s were searching for their place in the Soviet Lviv, and the strategies they used therefor. We shall talk about the phenomenology of urban space (and the space in general), about the ways to create alternative galleries in Lviv, about discussions in studios, and about the creativity. We find it important to learn about the role a city played in the creativity of late Soviet people; how an author could appropriate urban space, transform it, and improve it.
Because of the quarantine, the number of participants is restricted. To participate in the talk, please, register.
If you change the plans and cannot make it for the meeting, please, notify at the tel: +38 032 275 17 34.
With this meeting, we continue a series of talks at the exhibition-as-research for the Vil' Furgalo photo archive "processing." There, jointly with curators, photographers, art critics, and artists, we are reflecting about photography, its transition "from film to digital," how the materiality is transforming, and how the value of photography is changing, and the role of archives in this process.
Credits
Cover Image: A project by Serhiy Yakunin for the 10th International Winter Environment Festival "Mythogenesis 2015" // ArtUkraine
Image Gallery: Olha Zarechnyuk