Agents of Capitalism: The Birth of a New Class of Professional Managers in the Donbas (Late Nineteenth-Early Twentieth Century)
Volodymyr Kulikov
Kharkiv National University
18.6.2015
Center for Urban History, Lviv
The first wave of industrialization in the Russian Empire, which began after the industrial revolution in the 1880s, led to a number of global historical change: the revolution in transport, commodity production, and marketing. This was accompanied by significant social and cultural changes that contributed to the formation of industrial society.
One of the most significant social phenomena that was caused by industrialization is the revolution in management. The global economy, the increasing size of businesses, and the development associated capital caused the division of capital from the management of enterprises. The professionalization of management and managers begins. Business corporations governed by a hierarchy of hired managers gradually replace the traditional family firm as the main tool of organizing production and sales.
A characteristic of the managerial revolution in the Russian Empire was that new management practices were largely borrowed from abroad, from the US and Western Europe through foreign entrepreneurs and specialists (engineers, managers, and workers), and scientific concepts (scientific management) through academic literature.
How and who managed the largest industrial corporations in the Russian Empire? What were the risks associated with the transfer of management of business to the hands of hired managers? How did owners control hired managers? How did foreign managers of multinational corporations adapt to Russian realities? How did Russian entrepreneurs and managers perceive the idea of ​​Frederick Taylor – the father of scientific management? In his lecture Volodymyr Kulikov talked about the managerial revolution and the birth of a new class of professional managers using the examples of the largest industrial corporations in Donbas.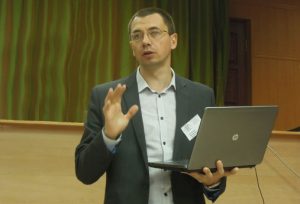 Lecture was a part of the lecture and discussion program of the DonKult cultural forum.