Street Style in Ukraine in the late 1980s – early 1990s: From Ban to Dream
21.2.2017
Center for Urban History, Lviv
The period of the "perestroika" reconstruction years and the first years of independence was the time when some cracks appeared in the curtain wall between the Soviet Union and the rest of the world. Later, the small cracks grew to large holes. The holes let slip into the eyes, minds and hearts of Soviet people thirsty for "other different" things a huge wave of information, images in particular.
Advertisements or slick magazines, top covers of music records, films, and television – all of them were sending a multitude of images. However, people were in the first place choosing out of the variety only those pieces that could allow fill the great gaps common for a long-standing totalitarian society. There was no youth fashion as such in the Soviet Ukraine, while youth subcultures were banned. And then, out of a sudden, "informal groups" of different kinds emerged, along with the musicians wearing the rock-n-roll shoes. As we know, there was "no sex" in the USSR, thus, there was no sexual clothes. The drawback should have been corrected as soon as possible. Finally, were the endless crowds of inexpressive people provoked to choose bright, unusual, and sometimes even absurd, articles of clothing and to freely combine them.
The process of perceiving and adopting new images turned out to be very creative. The manner in which the then Soviet citizens developed their fashion styles and aesthetics trying to adjust the Western "materials" to the relevant needs deserves a separate solid study.
Overwhelming naivety, literal understanding, lack of any immunity against everything "from abroad" and often a mere misunderstanding of the true sense and functions of clothes people came across generated broad fanciful variations that gave rise to most fashion styles in the independent Ukraine. The first half of the 1990s in our country is marked with the sign of adjusted fashion of the European 1980s integrated into social conscience in this period of time, on the brink of the decades.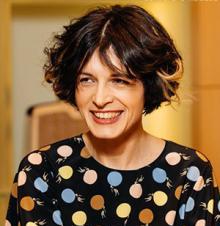 Discussion took place within the lectures and discussions program "Cultural Dimension of 90s"
Credits
Cover Image: Tadeusz Rolke
Gallery Image by Iryna Sereda