Meeting with Tadeusz Rolke
25.4.2017, 18:30
Center for Urban History, Lviv
We met the author of the photographs Tadeusz Rolke. We talked about photography in his life, about photography in the 20th c., on photo documentation as a genre of reportage and as art. At the same time, we presented the autobiography of the photographer published in the end of 2016. The meeting was hosted by the book editor Malgorzata Purzynska.
The meeting was moderated by Andrij Bojarov, a freelance curator, artist, researcher, co-curator of the exhibition "Tomorrow Will Be Better".
From book description:
"An eye witness of the epoch? There is more to it than that. Tadeusz Rolke is a witness of several epochs; an unusual witness, as he managed to catch them on his photos, whereas he bought his first camera from his friend back in 1944, when he was 15.
Would a photo album suffice? Which photos, though? Should they be with the everyday life of Polish cities? Or, the ones with the outstanding political events such as visits of Khrushchov, Nixon, or de Gaulle? (How close a photographer could approach a statesman! It is hard to imagine today!). Or, may be those would be the photos of advertising or fashion he was the first to take in Poland as a co-author of a well-known column of Barbara Hoff in the "Przekrój" weekly? Or, the photos of the adored women? Or, the photographs of art and artists, from Kantor and Shaposhnikov to Libera and Altamer, an absolutely unique archive, of great value for future generations?
The captivating reading of the autobiography recorded by Malgorzata Purzynska in her conversations with the master proves it cannot be replaced by any photo album. Because each photo has its own story behind…"
"A photo documentalist Tadeusz Rolke created a time capsule that can help us see our past. His photographs exist beyond time and space. It is not only because he used to live beyond his native land for a long time and work for popular western publications. Cosmopolitism of Tadeusz Rolke is major, while social solidarity is his observation method". Andrij Bojarov.
The event was held in Polish with simultaneous translation.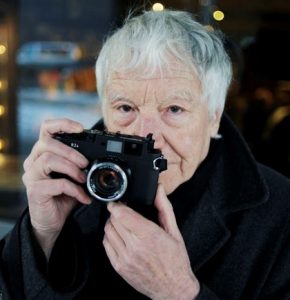 Discussion took place within the lectures and discussions program "Cultural Dimension of 90s"
Credits
Cover Image: Photo of Tadeusz Rolke. A girl against the backdrop of the Palace of Culture and Science, 1960
Gallery Image by Iryna Sereda