Between the Frontlines: Prisoners of War and the Interned during the Ukrainian-Polish War in East Galicia, 1918–1919
26.9.2018, 18:30
Ratusha Restaurant (Rynok Sq. 1), Lviv
During the Ukrainian-Polish war in East Galicia in 1918–1919, the belligerent powers in the home front applied repressive measures to civilians – they interned activists of the enemy. Mutual arrests and internment started in the second half of November 1918. Polish government conducted arrests of Ukrainians in Przemyszl and Lviv; Ukrainian authorities interned the Poles on the controlled territories. Interned civic activists were first kept in prisons or in the unfitted facilities, and later – in the specially equipped concentration camps. Ukrainian and Jewish activists from Lviv were kept in the castle of the Baranów town (Tarnobrzeg County). Most of them, though, were held in the concentration camps in Dąbie and Wadowice. The largest camp on the territory of the Western Ukrainian People's Republic (ZUNR)here the interned and captive Poles were held was located in Kolomyia.
Mass internment of civilians on both sides of the front caused major concern among Ukrainian and Polish communities. Due to efforts of the Metropolitan Andrey Sheptytsky and a Roman Catholic archbishop Jósef Bilczewski, representatives of Ukrainian and Polish governments started the negotiation process in Lviv. As a result, on February 1, 1918, it was concluded an Agreement on Treating Prisoners-of-War and the Interned Persons. The agreement became the only positive consequence of Polish-Ukrainian negotiations during the military conflict. In particular, it allowed the work of the International Red Cross. Moreover, Ukrainian and Polish inspecting commissions visited POWs camps and hospitals. Ukrainian side was represented by civic activists Daria Starosolska, Olena Kosewicz, and Sofia Oleskiv. The Polish side was represented by an artist Maria Dulębianka, Maria Opienska, and countess Teodozja Dzieduszycka. Ukrainian and Polish authrorities started a simultaneous process of releasing the interned persons and the exchange of the most famous activists. Humanitarian work of Ukrainian and Polish inspecting commissions and their facilitation by the military commands is a little-known page of the history of the Ukrainian-Polish War of 1918–1919.It implies the civilized nature of the armed conflict in the context of compliance with the 1907 Hague Convention.
The lecture will be conducted in Ukrainian.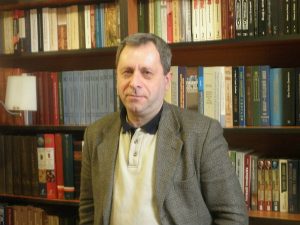 This lecture is a part of the public program "City on the Line: Lviv in November 1918." It invites the general public to discuss the centenary of the end of the Great War and the establishment of the Western Ukrainian People's Republic in the broader context of the fall of empires, revolutions, the making of new national states, and social and cultural transformations.
Credits
Cover Image: Lviv, November 1918: the city at the heart of the Polish-Ukrainian war
Gallery Image by Eugene Chervony