"Nice Weather and Clear Blue Sky but Lviv has a Sad and Disappointed Face": November Days in 1918 in Experiences of Women
Maryana Baydak
Lviv Ivan Franko National University
24.10.2018, 18:30
Ratusha Restaurant (Rynok Sq. 1), Lviv
November 1918, was in many respects a turning point for Lviv citizens. The breaking moment is described in diaries and memories of Lviv residents themselves, and visitors to the city. It was a sort of mainstream to reflect on the November events in Lviv in 1918, while entires post November, 1, usually changed the narrative tone of diaries. This period in the life of Lviv was described by most women as the time of bitter fight for national identity of the city where Poles and Ukrainians were making their myths and pointedly demonstrated national symbols in the streets (such as installed national flags on official and private buildings). At the same time, women were describing the changes in the everyday routines caused by actual military action in November, 1918  (Lviv citizens had not faced any front reality before). November in Lviv was the time that disrupted the regular routines of life, and largely adjusted cultural processes and the nature of human interaction, as well as taught women to rely only on themselves.
The lecture will present various experiences of interpreting and using urban space; solutions to everyday problems (transportation, food provision, energy supply). It will also be an attempt to understand emotions, feelings, experiences of women who found themselves in a "confined" space of their apartments in Lviv, the city saturated with anxiety and uncertainty.
The lecture will be conducted in Ukrainian.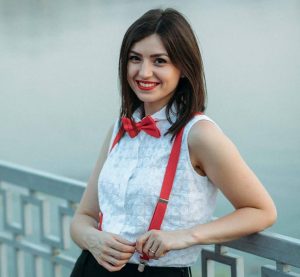 This lecture is a part of the public program "City on the Line: Lviv in November 1918." It invites the general public to discuss the centenary of the end of the Great War and the establishment of the Western Ukrainian People's Republic in the broader context of the fall of empires, revolutions, the making of new national states, and social and cultural transformations.