Solitude and Christmas
Father Mykhailo Dymyd
Institute of Church Law, Ukrainian Catholic University
9.12.2010, 18:00
Center for Urban History, Lviv
Within the framework of the academic-socio-artistic program "Solitude-Presence" a lecture by theologian Dr. Mykhailo Dymyd took place.
The lecture about the image of Christmas which represents solitude and presence in human communities developed the understanding that "nothing is alien to Jesus Christ, who was able already through his birth to reach into the depth of human solitude, rejection, and then understand and accept his condition in order to recreate him into the presence as a participant in the life of other individuals in the form of communion."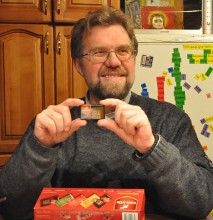 Credits
Сover Image: Shirazeh Houshiary. Christmas Tree, 2016/1993 / Joe Humphreys, Tate Photography.