Amateur Film-Making: Between Politics and Technology
Oleksandr Makhanets
Center for Urban History
21.11.2021, 12:00
online / youtube
Welcome to online lecture by Oleksandr Makhanets on "Amateur Film-Making: Between Politics and Technology." It continues the cycle of video lectures "Amateur Film-Making: History of Visual Modes and Creative Practices."
The history of amateur films as a phenomenon is a fairly general concept, which includes a variety of practices related to the use of media technology to capture moving images. The classic period of its existence coincides with the time of production and active use of narrow-format (amateur) equipment. Because of its relative affordability, compactness and simplicity, the technology has become available to the public, and thus gave rise to many ways to use this media. From family chronicles to experimental cinema, such opportunities opened up in the twentieth century to virtually everyone. However, was this technology so independent?
The lecture examines amateur film through the prism of political, economic and technical processes that influenced this phenomenon and were an important factor in shaping the practices and content of amateur films. We are searching for answers to the following questions: how does the amateur film-making of capitalist countries differ from the Soviet practices? What is the difference between films and practices of the interwar and postwar period? What opportunities did the new narrow-format filming technology offer, and what were its limitations?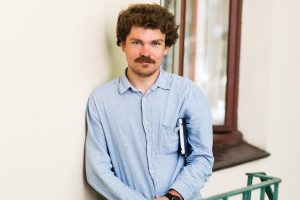 Video lectures created within the project "Society with a Movie Camera: History of Visual Modes and Creation Practices in Ukraine" supported by the Ukrainian Cultural Foundation.
The position of the Ukrainian Cultural Foundation may not coincide with the opinion of the authors.