Images of War: from Documentation Experiences
2.8.2022, 18:30
Courtyard of the Center for Urban History
Warmly, we invite you to join the conversation on "Images of War: from Documentation Experiences," as part of the series of meetings in the courtyard of the Center for Urban History "A Transient City."
At each stage of the shared experiencing of trauma of the war and crimes of aggression committed by Russia against Ukraine, society would tag in their stories – oral, visual, and textual images – the human dimension of the war. After February, 24, many initiatives have developed to grasp the multitude of choices, experiences, and images of the war. For instance, a project by Ostap Slyvynsky "War Dictionary," and an initiative of collecting visual documentation of the war implemented by the Urban Media Archive of the Center for Urban History.
The inspiration behind the "War Dictionary" came from a series of poems by Czesław Miłosz, "The World." The author described simple and familiar things that the memory retains to bring up later in images, reminiscences, and stories. "War Dictionary" combines poetry and stories, thoughts, or random dialogues, overheard in the streets or in the stores, from those who experience the war in their own different ways.
Documenting war experiences in photos and videos is another way to capture the surrounding reality. Waiting through the air raid alerts in the corridors, in bathrooms, or going to basements, volunteering, changes in public space, meetings with friends at the scaffolded secured monuments and other things have become a visible part of the war routine.
During the talk with a poet and translator Ostap Slyvynsky and a researcher Anastasiya Kholyavka, we shall discuss the documenting initiatives and challenges faced by the projects. We shall consider shared topics and images coming in the seemingly different two projects, and whether/how the textual is intertwined with the visual.
Moderated by a researcher Bohdan Shumylovych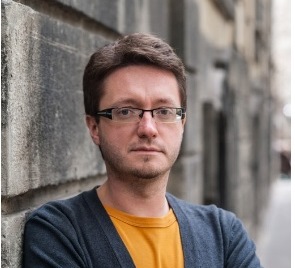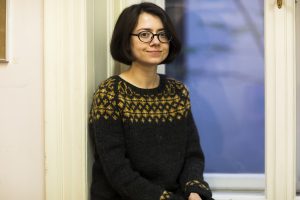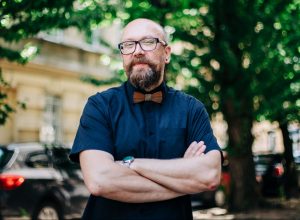 The conversation is part of the public program "A Transient City: Courtyard Conversations" which retrieves the intertwining of networks in a city living through different experiences of war back then and today.
Credits
Cover Image: Palace of Culture, Borodyanka 2022. Photo by Kateryna Moskalyuk // Urban Media Archive of the Center of Urban History
Portrait of Ostap Slyvynsky: Oleksandr Laskin
Gallery Image: Bohdan Yemets