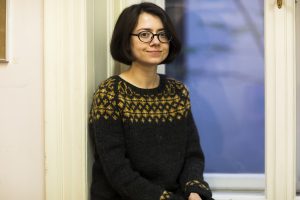 ---
A 2018 post-graduate from the Lviv National Academy of Arts. She works on her thesis and explores the impact of cultural and social contexts on the design of mental care institutions.
A coordinator of "Cafe philosophique Lviv", a co-founder of the Kontur media, an editor of the MediaLab.
In 2018-2020, she studied Roma visual art in the Roma Program of the Renaissance foundation. In 2020, she took part in an education program for cultural journalists "Fakultativ" from Art Arsenal.
Research focus covers the theory of design, the theory of art, current art practices.
She works in the Urban Media Archive within the "(Un)archiving of (post)industry" project; she deals with the development and management of collections of photographs, films, and video recordings.