Women in Anti-Jewish Pogroms in Summer 1941 in East Halychyna: Victims, Perpetrators, and Rescuers
Marta Havryshko
Krypyakevych Institute of Ukrainian Studies of the NAS of Ukraine
1.7.2021, 6.30 pm (UTC +3; Kyiv time)
online / zoom / youtube
We invite you to the lecture by Marta Havryshko "Women in Anti-Jewish Pogroms of Summer 1941 in East Halychyna: Victims, Perpetrators, and Rescuers" that concludes a series of online lectures "Gender Dimensions of Modernity Spaces."
With the outbreak of the German-Soviet war in the summer of 1941, Halychyna was swept with the wave of anti-Jewish pogroms. In addition to the huge research interest for the topic, its gender aspects have been understudied. Thus, the presentation focuses on the "white lacuna." Based on the memories, archival documents, videos, and photo sources, and also on oral stories of the Jewish survivors and their neighbors, it will cover gender aspects of the pogroms, such as: Was there any difference in the behavioral strategies of men and women of different ethnicity during the outbreak of anti-Jewish violence in summer 1941? How did gender and ethnic identity and social status define the experiences of different people in the pogroms? How can our perception of femininity and masculinity, gender norms and expectations combined with war settings and individual factors define the position of women during extreme violence? How could we go beyond the Raul Hilberg triad of "perpetrators-victims-bystanders" in the analysis of the role of Jewish and non-Jewish women in the pogroms? Did the Jewish rescue during the extreme pogroms include any gender aspects?
The event will be available online on a zoom platform. To join the discussion, please, register.
The lecture will also be live-streamed on Youtube (video below).
Working languages: Ukrainian and English. Simultaneous interpreting to/from Ukrainian will be provided.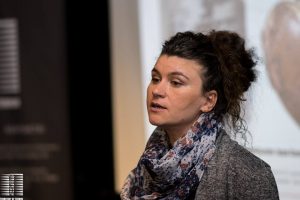 The event is organized in partnership with the Center for Urban History and the Ukrainian Association of Women's History Researchers
The project is implemented with the support of the Heinrich Boell Foundation Kyiv Office - Ukraine
Credits
Cover image: (c) Yad Vashem
Small photo: Pogrom in Zolochiv. USHMM, RG-60.1872 | Film ID: 4215
Portrait of Marta Havryshko: Museum "Territory of Terror"