"Walking the Streets of Trauma and Memory": presentation of digital narratives ("Lviv Interactive" project)
22.12.2021, 18:30
online / zoom / youtube
It is hardly possible to talk about the return of Stanislaw Lem to Lviv and to commemorate him in a city where he was born and lived for the first 24 years of his life without talking about the experiences of violence and trauma of the Second World War in the city. Lvivians need this difficult talk to symbolically return to Lem's city but also to try and see Lviv heritage in the
stories of thousands of families who, similar to the Lems, lost their homes or even their lives.
During 2021, the project of digital encyclopaedia "Lviv Interactive" published a series of stories highlighting these topics for Lviv citizens and visitors. Publications about pogrom, occupation, violence, and conflicts of the first half of the 20 th century attempted to use the digital format to bring to attention the historical context of sites that used to be the places of trauma but have the capacity to become the sites of memory, an important resource for a present-day city.
During the online talk, we shall take a virtual walk around places and events that were directly related to pogrom experiences in the summer of 1941 and the Holocaust that Stanislaw Lem survived during the war and occupation in Lviv.
We shall talk about the places of memory, the role of urban space and the use of digital tools with the authors of the "Lviv Interactive" Andriy Usach and Inna Zolotar.
Moderator: Taras Nazaruk, coordinator of digital history projects in the Center for Urban History.
The event is taking place on zoom, with live stream on Youtube channel of the Center for Urban History.
To join, please, register.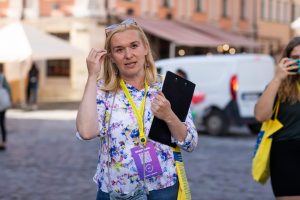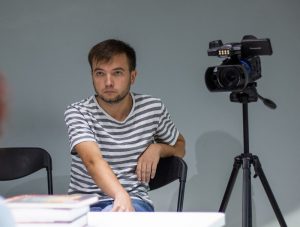 This event is part of the program "City, Trauma, and Art: Conversations in a Year of Lem" organized by the Center for Urban History and Café philosophique Lviv in Lviv as part of the celebration of the 100th anniversary of Stanislav Lem and in cooperation with the Lviv City Council and the Choven publishing house.
Credits
Cover Image: Pogrom in Lviv 1941 / Holocaust History Archive