We invite you to take a walk with Olha Zarechniuk, a researcher of the history of architecture, on "Secession in Lviv." It continues the series of meetings "Getting to Know Lviv."
What is Secession? This architectural style from the early twentieth century has different names in European countries, such as Art Nouveau, Jugendstil, Moderne, and others. In Lviv, the Austrian version has taken root, and stands for the "gap" or "exit." Today, this style is very popular in Lviv. The facades of such houses present a variety of flowers, colored tiles, and fictitious forged fences. The interiors have paintings on the ceilings and stained-glass windows. Designed to be a radical rejection of traditions and principles of classical architecture, today it is perceived primarily as beautiful, while at some point in time these buildings were controversial and provoked a barrage of sharp criticism.
Let's walk through the vicinity of Bohomoltsia Street, where the Center for Urban History is located, and along the small quiet streets between Lychakivska and Levytskoho. Let us pay attention to the works of the architectural firm of a famous Lviv architect, Ivan Levynskyi.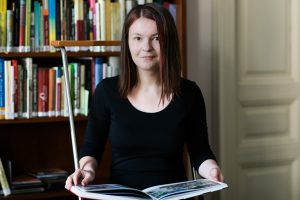 The duration of the city walk is 1.5 hours.
To participate, please register at the link or via a phone number +380504327202 or +380322751734. Once you've registered, we'll let you know about the meeting place.
In case of an air alert during the walk, we have a planned place for the bomb shelter.
During the series of walks "Getting to Know Lviv," you will have the opportunity to get acquainted with the general history of the city, as well as to learn more about its old architecture and how it was perceived by Lvivians in the nineteenth and early twentieth centuries.