We invite you to join the city walk with the researcher of the history of architecture Olha Zarechnyuk on the "Neo-Gothics in Lviv," as part of the series of meetings "Getting to Know Lviv."
Lviv cannot boast of many samples of Neo-Gothic architecture. The pointed arches, lace-filled windows and other bright details are just the decorative elements on the façades imitating structural pieces in medieval architecture, either from defensive castles, or from churches.
We will use the example of several townhouses in Lviv city center to comprehend how the XIX century Lviv citizen got the ideas to embellish their houses in this manner. We will also try to understand why Neo-Gothics is a style expressly "imported" from various countries in the West, rather than the revival of local construction traditions from many hundred years before.In case of an air raid alert, we have planned the location with the bomb shelter.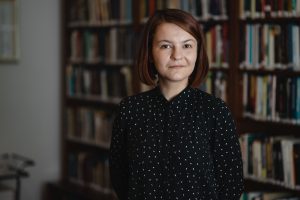 The duration of the city walk is 1.5 hours.
During the series of city walks "Getting to Know Lviv," you will be able to learn about the city's general history, and see more of its old architecture and how it was perceived by Lvivians in the XIX and early XX centuries.
Credits
Cover Image: Olha Zarechnyuk