The Monastery of Saint Onuphrius and The Railway Viaduct
We invite you to join a walk with the researcher of the history of architecture Olha Zarechnyuk on the "The Monastery of Saint Onuphrius and The Railway Viaduct."
In 1908, the St. Onuphrius Monastery was risking demolition. To get rid of the extremely uncomfortable railway crossing next to the monastery, which cut the present-day Khmelnytskyi Street in 1868, the Ministry of Railways in Vienna proposed to build a viaduct. The idea was supported by the City Council, but opposed by numerous citizens.
The viaduct for pedestrian, trams, and carts was an expensive solution to the problem. In addition, it prioritized the railway rather than common Lvivians. It also meant the demolition of many buildings such as residential houses, the St. Onuphrius Monastery, and the XVI century bell tower. Initially, the monument conservationists unequivocally opposed it, but not long after, they gave in. It was only the director of the City Archive, Oleksandr Cholovsky, who continued to defend the historical value of the monastery buildings.
The alternative solution to move the tracks and Pidzamche station outside of Lviv was also discussed. This was what the locals wanted because the railway traffic at the windows of their houses made the whole neighborhood an unattractive place to live.
The walk will focus on the discussions and arguments of the diverse environments of Lviv "for and against" the project, the role of this place for the urban development of the city, and how the monastery remained in its place.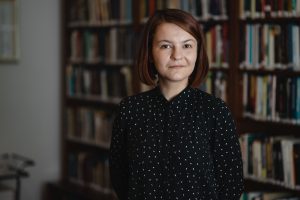 The duration of the city walk is 1.5 hours.
To participate, please register at the link or phone number +38 050 43 27 202 or +38 032 275 17 34. Once you've registered, we'll let you know about the meeting place.
Credits
Cover Image: Zhovkivska Street in Lviv // Narodowe Archiwum Cyfrowe
Gallery Image: Olha Klymuk