How to Perceive and Recognize the Heritage Value? Soviet Modernist Architecture in Kazakhstan and Challenges in Preservation and Re-Usage
Dinara Satbayeva
Central European University, Budapest
24.7.2019, 18:30
Center for Urban History, Lviv
Since the collapse of the USSR in 1991, Kazakhstan has set to a nation-building process, where cultural heritage became a challenging aspect as it represents a complex blend of What is Kazakh? What is Soviet? What is Kazakhstani? What is National? What should be preserved and reused? And what should not? This ambiguity underpins problems of cultural heritage preservation. One of the most aesthetically valuable groups of endangered objects is late Soviet architecture, which belongs to the period of 1955-1991 and is defined as a style of Soviet modernism. Today, as a result of extractive institutions, legal deficiencies, corruption, untransparent decision-making and low level of civic engagement, the mechanisms for heritage preservation are inefficient. The promising solution for this issue lies in the practice of adaptive heritage reuse that is driven and structured through community engagement.
During the lecture, we will see what is Soviet modernism in Kazakhstan and what is its role in contemporary Kazakhstani culture. We will identify some problematic cases and hypothesize on the prospects of such heritage in the future.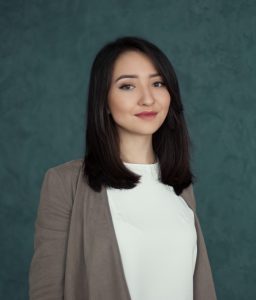 Lecture is a part of the series of public events within the exhibition "Phototecture of Modernism".
Credits
Cover Image: Schoolchildren's Palace, Almaty
Gallery Image by Iryna Sereda