Polish Solidarity, Transformations and Present-Day Ukraine
17.11.2016
Center for Urban History, Lviv
Center for Urban History hosted a talk with the director of the International Solidarity fund, ex-politician and a long-standing civil society sector activist from Poland Krzysztof Stanowski.
Solidarity, the largest independent social and political movement in the Communist Poland, is a symbol of freedom for the entire region of East and Central Europe. It was established in 1980 as an independent trade union of workers. In fact, Solidarity launched a large scale transformation in Poland. The trade union movement is an example of successful campaign of society against the Communist regime. One can hardly imagine Polish transformation without active participation of Solidarity members.
The same as any other historical symbol, Solidarity also has its own myths and legends. What was Solidarity for Polish society? What myths did it generate? How did they shift from the underground activities to actual politics? Was the underground experience helpful in legal activities? Could present-day Ukraine learn anything from the movement of the 1980s, or did it exhaust all possibilities back then? Today, we can increasingly often hear claims within Polish community that ideas of Gedroitz implemented by one of the Solidarity leaders Jacek Kuron have reached their tether at the modern stage of Polish-Ukrainian dialogue. Then, it is yet to understand – if it had exhausted itself, what is the alternative? What could substitute the Gedroitz idea in a Polish-Ukrainian dialogue? What is the significance of Polish Solidarity for Ukraine? The answers to these questions could help us to better understand the significance of Solidarity not only for Poland, but also for the entire region of East Central Europe, which Ukraine is part of.
The talk will be moderated by Olha Popovych, a historian by background, member of the board of the 'Our Choice' Foundation (Poland), member of the Civil Committee of Solidarity With Ukraine (since 2014); engaged with the analysis of political situation in Ukraine.
The event was held in Polish with simultaneous translation.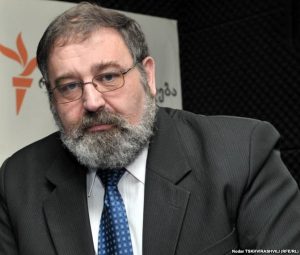 The event is part of the lectures and discussions program "Transformations in East Europe: 27 Years Later".
Supported by Consulate General of the Republic of Poland in Lviv.
Credits
Gallery Image by Iryna Sereda