Oral History of Photography
25.8.2016
Center for Urban History, Lviv
The Center for Urban history hosted a talk with Tadeusz Rolke, author of the exhibition "Tomorrow Will Be Better". The talk was on the project itself, and also about creative activities and plans of a Polish photographer and a photo documentary maker.
This meeting opened a series of lectures and discussions to support the exhibition "Tomorrow Will Be Better". Every month, we invite historians, sociologists, political science experts, politicians and artists to talk about various aspects of transformations in East Europe and the consequences for Ukraine and other post-Communist countries.
The conversation started with the first trip of Tadeusz Rolke to Lviv. His observations of daily life were recorded on several dozens of color lanternslides that created a framework for the current exhibition at the Center for Urban History. The author told  about what he managed to notice and who he met. Moreover, he shareв the impressions he got back then, when crucial political and social change started in Ukraine. He talked about the people who helped him understand and get deeper into the canvas of the transformation.
The first trip was followed by many others, covering areas around Lviv and presenting pictures of persons for Polish and German press. The talk would follow the timeline to touch upon further trips: a visit to Ivano-Frankivsk, meeting the writer Yuriy Andrukhovych (Rolke later published his portraits in the magazine "Magazyn Gazety Wyborczej"). Other links of Tadeusz Rolke with Ukraine strengthened in the 2000s, when during his trip to Rivne, Konstantyniv, Khmelnytskyi, and other cities, ac accompanied by Andrij Bojarov and Marek Grygiel, he started taking photographs of objects related to traces (mostly symbolic in nature) of culture and history of Hassidism. Such further trips with a photographer Wojciech Prazmowski and Marek Grygiel to Chernivtsi, Kolomyia, to Pokuttia area, to Uman, Braclaw, Kamyanets Podilskyi, Khotyn, and to the St. Trinity Fortress in Okopy brought numerous photos for the cycle "We Were Here". The photographer has been working on the cycle for many years in a row already. In 2010, the exhibition "We Were Here" was on display at the Center for Urban History.
Tadeusz Rolke talked about his recent activities: albums of author's photographs, about the planned biographical books and the most recent exhibition project "Blurring", on the tragic events of the Second World War and killings of Jews by local citizens in Polish towns. The discussion of the projects allowed tracing different complementary subjects in the rich creative work of Tadeusz Rolke, one of the most recognizable photographers in Poland.
The conversation with Tadeusz Rolke was moderated by
Andrij Bojarov, freelance artist and curator, Lviv
Marek Grygiel, a photo critic, curator of collections of the Center for Modern Art in Warsaw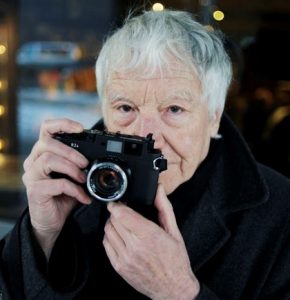 Media partner: fototapeta.art.pl
Credits
Сover Image: Tadeusz Rolke, 1991