The City as a Field of Women's Civic Activity: Ukrainian Experiences
Dr. Ivanna Cherchovych
Center for Urban History
21.6.2023, 18:30
Conference Room of the Center for Urban History
We invite you to a lecture by Ivanna Churchowicz that continues the series of lectures on Lviv's urban experiences entitled "Let's Have a City".
In the nineteenth century, the city, as the most obvious embodiment of the public sphere, was by default seen as masculine. Associated with competition, the labor market, and the daily need to fight for "tomorrow," in a patriarchal society, urban life was very much at odds with traditional ideas about the domestic female world. From the middle of the century, with the increasingly active emergence of women's self-organization practices, the mental map of urban participants began to change.
In this lecture, Ivanna Cherchovych will discuss the civic engagement of Ukrainian middle-class women in the city in the second half of the nineteenth and early twentieth centuries and how they were experiencing social power through their public (or national) service. The researcher will trace how women's organizations (being mostly charitable) contributed to the development of a culture of public fundraising, how women's participation in the formation of Ukrainian urban identity was and how it was intended to be. The lecturer will look at the city as an opportunity for women to be active outside their domestic lives, to emancipate themselves, if not always in content, then in form.
The case study of this lecture will be the example of Olga Barvynska (née Bachynska) (daughter of the Ukrainian ambassador to the Sejm Krajowy and the Reichsrat in Vienna, Oleksandr Barvynskyi), as well as the experience of the female part of her family - stepmother Yevheniia Barvynska, aunt Hermina Shukhevych (Daria Shukhevych-Starosolska's cousin) who were founders or active participants in the first Ukrainian women's organizations in the city (The Rusynky Club, The Ukrainian Girls' Group, The Women's Cooperative Trud (Labor) of the Women's Community, The Society for the Care of Servants and Workers, etc. The research will be based on the family's private correspondence preserved in the collection of the 11th Department of Manuscripts at the Vasyl Stefanyk Lviv National Library; memoirs, memoirs, and creative heritage of the women's movement of that time (Natalia Kobrynska, Uliana Kravchenko, Mykhailyna Roshkevych, Osypa Bobykevych-Nyzhankivska, Kostiantyna Malytska, Olena Zalizniak, Olha Duchymynska, and others); and the Ukrainian press of various ideological orientations and audiences (Meta, Women's Work, Ruslan, Dilo, Halychanyn, Narod, etc.).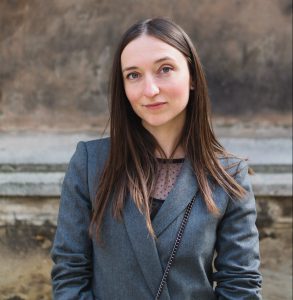 Credits
Cover Image: Institute for Research of Library Art Resources at the V. Stefanyk Lviv National Scientific Library.
Gallery: Olya Klymuk