City and Media: Seeing, Imagining, Reading
Dr. Bohdan Shumylovych
Center for Urban History
10.5.2023, 18:30
Conference Room of the Center for Urban History
We invite you to attend a lecture by Bohdan Shumylovych, which begins a series of lectures on Lviv's modern experiences called "Let's Have a City"
Can we think of the city as an imagined community? What are the tools of such social imagination, and how does imagination turn into social practice? What is the role of imagination in culture, and what is the social imagination after all? This lecture will offer answers to these questions using the concepts of social history related to media. We will be guided by such thinkers as Charles Taylor, Benedict Anderson, Chiara Bottici, and Cornelius Castoriadis. 
Using concepts such as "social representations," "imagined communities," "imaginal politics," or "the imaginary," during the lecture, we will discuss what imagined communities are, how individual affects are transformed into collective representations, and how new identities are created through shared symbolization. Another important question is the relationship between imagination and space, namely how the public sphere and public space were formed in the West and in the countries of socialism. How did a city under the influence of media gradually turn into a media city? According to Arjun Appadurai's thesis, modernity is marked by an important connection between media and space, and he used the concept of "media landscape" to explain this connection. 
With the example of Lviv and its television studio, we will trace how the visual landscape of the city is changing in and through the media and how the appearance of a television studio and antenna in the city affects the urban imagination itself and new urban identities.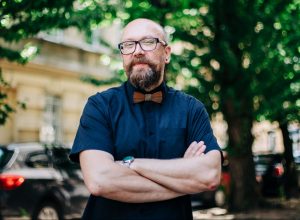 Credits
Cover Image: Volodymyr Rumyantsev collection / Urban Media Archive of Center for Urban History
Gallery: Ira Sereda