Iryna Sklokina Research Scholarships at the Institute of Human Sciences in Vienna
The Institute of Human Sciences in Vienna offers annual research scholarships within the "Ukraine in a European Dialogue" program. This year, the call distinguished the project by the researcher from the Center for Urban History Iryna Sklokina "Remembering the "Sacred War", Dreaming of "Good Life": WWII Memory and Soviet Everyday Culture."
Within the project, Iryna is going to work on a monograph about how the official Soviet discourse on the Second World War, with its glorification of self-sacrifice and ideological military confrontation, transformed into the late-Soviet times under the impact of new values of consumption, entertainment, and leisure. The work focuses on everyday memory practices, such as tourism to war memory sites, creation, and routine use of public memorial sites, such as monuments and parks, and the commemoration of war victims within the rituals of family life and personal memory. Iryna is going to stay at the Institute of Human Sciences for her internship from September 2020, to February 2021.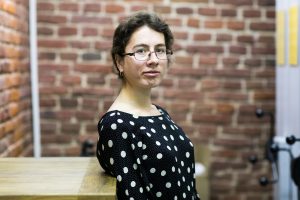 Credits
Сover Image: Celebration of the 1st anniversary of the liberation of Kharkiv from the Nazi occupation, August 1944 / Kharkiv Historical Museum