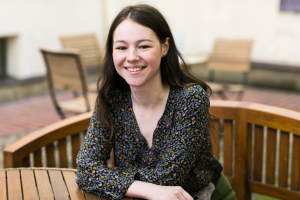 ---
She studied at the Philosophy Faculty of Karazin National University in Kharkiv. Master of Culturology (diploma paper title: "Actionism as a phenomenon of post-Soviet culture").
She does collages and music as Regina Collage. In 2020, the Museum of Ideas hosted a personal exhibition of collages "Open for Montages". She also participated in several group exhibitions in Kharkiv. She plays in music bands and composes music, such as was engaged in providing sound to films by a film amateur Orest Bachmaha.
Interests: music, visual culture, culturology.