What Do We Want to Know About the War?
Jan Tomasz Gross
Princeton University
Center for Urban History, Lviv
Center for Urban History hosted an open lecture and conversation with Princeton University professor Jan Tomasz Gross, which was conducted in the Center's Conference Room. It was the first occasion for Lviv to listen to the noted Princeton scholar and discuss with him topics of vital interest. Matters slated for consideration included: what do we know about the war, what is the purpose of new insights and research, is there value to public debate which attempts to alter perception and understanding, not only regarding society in general but also about human relations in wartime?
In 2001 Jan Tomasz Gross' Neighbors: The Destruction of a Jewish Community in Jedwabne appeared in Poland. Fear and Golden Harvest followed shortly after. These books opened a public discussion in Poland about Polish society and Polish-Jewish relations during war and occupation. Neighbours tells the story of the town of Jedwabne, wherein 1941 almost all of the town's Jewish inhabitants were burned in a barn by their Polish neighbours. This is a story of what happened to an ordinary community in extraordinary circumstances of wartime destruction and brutalization. Neighbours became an important part of Polish-Jewish dialogue and contributed to changing Polish understanding not only of the war but also of society's need to remember the war in terms of only victims and heroes.
The discussion in Poland around Neighbors revealed the extent of the politicization of history and memory but also showed the development of the public sphere in Polish society. The discussions and debates over Professor Gross' work in scholarship, the press, and public presentations have sometimes crossed into the scandal - but they have contributed to including scholars in public life, and have even drawn artists, journalists and public intellectuals into the discussion.
What would such a discussion about the wartime period mean in Ukraine, where there were many "neighbours," since in small towns and cities there lived Poles, Jews, and Ukrainians. From today's perspective we could also raise the following question: what influence could such discussions have on our contemporary society and on our understanding of defining and building relationships with the "Other"?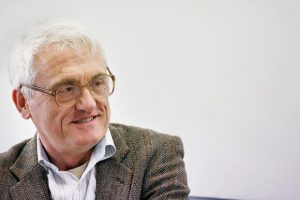 The lecture was held in conjunction with the Summer School session, "Jewish History and the Multiethnic Past of East Central Europe: Societies, Cultures, and Heritage".