Marinetti in Lviv, or What Happened on March, 11-12, 1933
Przemysław Strożek
Art Institute of the Polish Academy of Sciences
April 27, 2018 / 6.30 pm
Center for Urban History, Lviv
Filippo Tommaso Marinetti arrived to Lviv upon invitation of a director of the City Theater Wilam Horzyca to honor with his presence the first show of his drama "The Captives" staged by a director Wacław Radulski, with the stage design by Andrzej Pronaszko. Marinetti was captivated by Lviv, and took every opportunity to describe the beauty of the place, and the youthful enthusiasm of local art groups. The founder of futurism was accommodated in the George hotel, while the Lviv production of the "The Captives" the author himself described as the best he had ever seen. He also said it excelled the Italian adaptations with the stage designs of one of the most significant futurism set designers Enrico Prampolini. The event entitled "Marinetti in Lviv, or What Happened on March, 11-12, 1933" was organized to commemorate the visit of Marinetti. It aims to bring closer the developments in Lviv and how Lviv culture circles, intellectuals, art critics and artists responded to the visit of one of the most significant representatives of Avant-garde, and a pioneer of new trends in art.
He was a forefather of Italian futurism, while his manifesto published on February, 20, 1909, in Paris "Le Figaro" was recognized the first manifesto of Avant-garde. It had an objective to introduce crucial change into art practices such as destroying museums and libraries, and embarking on a new kind of art, exempt of traditions and the past. The experiment-oriented Italian futurism trying to push art into the future and discovery of things yet undiscovered gave rise to many new groups of Avant-garde in the world.
Even though his visit was taking place rather late, almost 24 years after proclamation of futurism, when Italian futurism was already wearing out, the visit was still highly significant for Lviv milieus who were trying to establish contacts with international Avant-garde settings.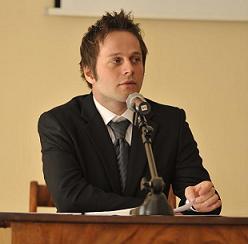 Lecture was a part of program "Culture (without) Spaces: On Avant-Garde Heritages in Lviv."  The program was organized in cooperation with Adam Mickiewicz Institute and supported by Lviv City Council and Lviv National Museum.
Credits
Сover Image: The first show of the performance "The Captives" based on the play by Filippo Tommaso Marinetti in Lviv Grand Theater (today – Solomiya Krushelnytska Theater of Opera and Ballet) took place on March, 11, 1933, attended by the playwright / Collections of Theatre Museum in Warsaw
Image Gallery by Taras Bovt