Jewish Lviv: History of the Community in the Space of the City
The online encyclopedia "Lviv Interactive" publishes a multimedia story "Jewish Lviv: History of the Community in the Space of the City". The study is an attempt to look at Lviv through the prism of its Jewish history and to understand how the Jewish community and the city space mutually influenced each other.
"In the history of the Jewish community, there has been a search for a balance between autonomy and inclusion in the political, economic, and cultural structures of the non-Jewish city. Over the centuries, this balance and the boundaries of possible integration expanded, and the Jewish community became a more complex and heterogeneous entity. The text examines these changes in various areas — the place of Jews in the city, relations with the authorities, religious transformations, education, and also tries to show the social structure of the Jewish community and its place. An integral part of the history of the Jews of Lviv is violence, which occurred on various scales throughout history and culminated in the almost complete extermination of the community during the Holocaust. The memory of the ancient Jewish community among the modern Jewish and non-Jewish residents of the city is a separate important topic."
The study by Vladyslava Moskalets, which we invite you to check, is built around an interactive map of the city, as part of the Lviv Interactive project.
The theme of Lviv's Jewish past has held an important place in the project from its onset. During this time, publications appeared about a number of synagogues and important buildings of the Jewish community, biographies of Jewish community figures, the history of the Holocaust and anti-Jewish violence in the city, and commemoration, and places of remembrance of Jewish heritage. Many researchers and authors have joined the effort to discover topics related to the history of Jewish Lviv: Olena Andronatii, Waitman Wade Beorn, Khrystyna Boiko, Oksana Boiko, Halyna Havrylina, Halyna Glembotska, Inna Zolotar, Iryna Kotlobulatova, Serhii Kravtsov, Taras Martynenko, Jack Wright and Rachel Stevens, Boris Orach, Oksana Sikorska, Andrii Usach, Anna Chebotariova, Oleksii Chebotariov, Tomash Jankowski, Victoria Yakovleva.
Vladyslava's narrative text is an attempt to place the available publications in the broader framework of the history of the Jewish community in Lviv. Reading the text is a kind of guide and an invitation to further study the map, topics, and microstories that were previously studied within the framework of the "Jewish City".
Please, find the publication [at the link].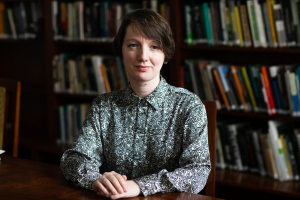 Credits
Cover Image: Narodowe Archiwum Cyfrowe