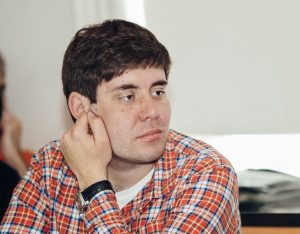 ---
Doctoral student at the University of St. Gallen and associate fellow of the Doctoral Program "Austrian Galicia and its Multicultural Heritage" at the University of Vienna. Thesis title: "Transmigration of Russian Jews in Galicia in the Late Imperial Period".
He received his master's degree in history from the Ukrainian Catholic Universit and bachelor's degree from the Vasyl Karazin Kharkiv National University.
Since September 2015, he has been the research assistant for the School of Humanities and Social Sciences at the University of St. Gallen. Oleksiy is the co-founder and coordinator of projects of the Center for Interethnic Relations Research in Eastern Europe – a Kharkiv nongovernmental institution, working in the academic and public sectors. Coordinated exhibitions, educational and academic projects devoted to multicultural history and heritage, the traumatic past.
Since May 2014, he has been the assistant project manager for the Urban Media Archive, coordinating work with images of cities of East Central Europe. Prior to that he contributed to the Center's research projects.
Selected presentations:
Chebotarov O. (2015) Spryyniatia antyyevreysʹkykh pohromiv pochatku 1880-kh rokiv u Lʹvivskomu publichnomu prostori (Reflections of the Anti-Jewish pogroms of early 1880s in Lviv public space), In: Yevreyi v etnichnij mozaici ukrainskych zemel XIX–XXI stolittia (pp. 64-80). Kharkiv: V.N. Karazin Kharkiv National University, ISBN 978-966-285-239-4 (in Ukrainian)
Chebotarov O. (2015) Ukrainskiy vybor Viliama Berenshtama (Wiliam Berenshtam's Ukrainian Choice). Nauchnyie trudy po iudaike. Materialy XX yezhegodnoi konferencii po iudaike. Moscow, pp. 43–50. (in Russian)
Chebotarov O. (2013) Stanovlennia "yevreiskoi temy" v Ukrainskomy rusi Rosiyskoji imperiji (Development of the "Jewish Subject" in the Ukrainian nation movement of the Russian Empire). Visnyk Nacionalnoho tehnichnoho universytetu "Kharkivskyi politechnichnyi instytut": Istorychna seriya. Kharkiv, pp.112–124. (in Ukrainian)