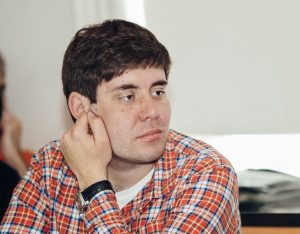 ---
Ph.D. in social sciences and cultural theory (University of St. Gallen, 2021); MA in history (Ukrainian Catholic University, 2015); BA in history (V. Karazin Kharkiv National University, 2013).
Oleksii is an Associate Researcher at the Center for Governance and Culture in Europe, University of St. Gallen. In the academic year 2021-2022, he holds a postdoctoral fellowship at the New Europe College in Bucharest. Moreover, Oleksii works in digital history projects of the European Association of Jewish Studies and Posen Library of Jewish Culture and Civilization.
In 2015-2021, he served as Research Assistant of the Department of Russian studies at the University of St. Gallen; in 2016-2020, managing editor of the online journal Euxeinos. He taught courses in history and culture as a lecturer of the Contextual studies program at the University of St. Gallen. Oleksii was an Associate Fellow of the Doctoral Program "Austrian Galicia and its Multicultural Heritage," University of Vienna and doctoral program "Migration and Postcoloniality meet Switzerland," University of Fribourg. In 2014, he held a fellowship at the Faculty "Artes Liberales, " University of Warsaw. Also, in 2011 Oleksii co-founded the Center for Interethnic Relations Research in Eastern Europe in Kharkiv.
Since 2014, he has been the assistant project manager of the Urban Media Archive, coordinating work with images of cities of East Central Europe as well as contributing to academic, exhibition, educational and publishing projects of the Center.
From 2018 until the present, coordinates cooperation between the Center for Governance and Culture in Europe at the University of St. Gallen (Switzerland) and the Center for Urban History, in particular a series of Digital History Seminars. Among projects co-organized were the following: "Digital Mapping and Historical Imagination" (2018), "Historicity of the Visuality and Image History: New Forms of Digital and Visual History/Humanities" (2019), "To Mountains From a City: Imagining Carpathians in Arts and Culture" (2021). In 2022 Oleksii is co-organizing an educational program in digital humanities.
Currently, he is working on the postdoctoral project "The Border River Zbruch: A Socio-Cultural and Environmental History, 1900-1939." His research interests include migration and borderland studies, Jewish, Ukrainian, environmental and digital history.