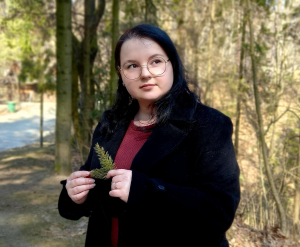 ---
She received her Bachelor's degree in 2020, from the Kharkiv State Academy of Culture majoring in "Information, Library Keeping, and Archival Activity." She was head of the student council of the KhSAC, a member of the Ukrainian Association of Students, and of the regional student council at the Kharkiv Regional Administration. She received her Master's Degree at the faculty of culture studies of the Kharkiv State Academy of Culture (2022), where she defended her Master's thesis on the "Socio-Cultural Image of Student Youth in Kharkiv City in social media (as illustrated by Instagram)." Since her studies in the Academy, she has engaged in volunteer activities in the Kharkiv Municipal Center of Social Services for Families, Children, and Young People "Dovira", still continuing the effort.
From September 2021, until February 2022, she worked as a secretary at the Department of Fine Arts and Design at the Kharkiv Beketov National University of Urban Planning.
Since 2022, she has worked at the Center for Urban History, where she processes archival documents. She is in charge of cataloging books and managing the Center's library.
Interests: methods and approaches to sociological research, public history, digital archives, pedagogy and psychology of higher education.