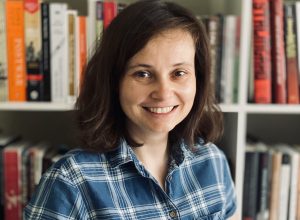 ---
At the Center for Urban History, Oksana is a research fellow and conducts research for the project "Cities, Wars, and Reconstruction in 20th-century Eastern Europe." Previously, she led the "Lviv Interactive" project from 2011 to 2016 and curated the exhibition "Great War 1914–..." (2014–2016).
Oksana received her bachelor's degree with high distinction (2004), master's degree with high distinction (2005), and PhD in history (2011) from Ivan Franko National University of Lviv.
Oksana also completed the certificate program in the Department of Philosophy at the Ukrainian Catholic University (2008) and the intensive program "Text, Memory, and History" at the University of Stavanger, Norway (2013). In addition, she held research fellowships at Warsaw University and the Polish Academy of Sciences, Warsaw (2007, 2009, 2010, and 2012). In 2016, she was a guest researcher at the Ukrainian Research Institute of Harvard University. Since 2016, she has been working on her PhD thesis on Ukrainian Galician soldiers during the First World War and the Revolution at the University of Toronto.
In addition to conducting history research, Oksana has been a curator of theatre projects, including the Drabyna International Theater Festival (2004–2011), the "Drama.UA" Festival of New Drama (2010–2013), and the First Stage of New Drama "Drama.UA" in Lviv (2014). She is also a founder and director of the Drabyna Art Workshop (2003–2014).
Research interests: history of violence, history of the Great War and the Revolution, history of theatre, cultural history, theatre and exhibition curatorship.