The Architecture of Lviv's Secondary Schools in the 19th and 20th Century (Through 1939)
Karol Sanojca
University of Wroclaw
May 12, 2016
Center for Urban History, Lviv
The construction, expansion and modernization of the material base for education in Lviv during the period of Halychyna, and the Second Polish Republic were initiated by state and provincial authorities as well as individuals and institutions. Well known architects, construction companies, foundations and school founders were involved in the construction. In addition to the objects themselves, their environment was also changed with the addition of stadiums, school gardens, spaces for recreation. Characteristically, the educational facilities devoted to Polish, Ukrainian, German and Jewish youth differed significantly in how appropriate the buildings were for the school's needs in terms of size and equipment. A portion of schools frequently rented from private individuals or public institutions, and the facilities they rented out barely met the needs of the type of space that they required.
But modern buildings were also erected in the city, which continue to elicit the understanding that the concept had matured with utilitarian features, and sometimes with very interesting architecture (eg, a seminary named after A. Asnyka, the academic establishment of Zofia Stshalkovska, the Franz Joseph (later the Stephan Batoriya) gymnasium. Franz Joseph, later Stefan Batory Foundation). Most are still there, and some even perform the same function. About the role, which for secondary education the ancient Bernardine Monastery played a large role in, and also about the history of building secondary schools in Lviv, was discussed by Professor Carol Sanoytsa.
Lecture was held in Polish.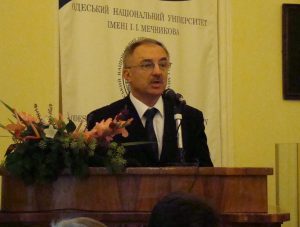 Credits
Сover Image: Natan Kriger. IV higher real gymnasium, 1895-1900. Ihor Kotlobulatov collection/ Urban media archive