Film screening "In the Spring" (Mikhail Kaufman, 1929) and a lecture
Stanislav Tsalyk
author, screenwriter, ВВС history writer
March 14, 2019 / 6.30 pm
Center for Urban History, Lviv
Welcome to the film screening "In the Spring" (Mikhail Kaufman, 1929) and a lecture by Stanislav Tsalyk. The event is part of the [unarchiving] program of the Urban Media Archive.
A documentary by Mikhail Kaufman "In the Spring" (1929) has long been considered lost. In the Soviet times, the film has been censored and cut several times, that is why no one knew whether the original copy was available anywhere at all. Mikhail Kaufman was a younger brother of a film director Dziga Vertov, author of a well-known film "Man With a Movie Camera". Both Kaufmans worked on this glorious movie: Dziga was a director, and Mikhail was a cameraman. Therefore, when recently a full version of the film has been discovered in the Netherlands, Kyiv was very happy. With the support of the Oleksandr Dovzhenko National Center, the film was digitized and restored. In 2018, Stanislav Tsalyk made a voice-over description of the developments on the screen, and the new version of the film was first screened in Kyiv.
Made in 1929, Kaufman's film shows Kyiv which is no longer there – its quotidian life, its people, the streets, the buildings, the Dnieper river, the flood, a.o. Meanwhile, a voice-over by Stanislav Tsalyk helps us understand what we see on the screen. The researcher's lecture explains how the Kaufman brothers landed in Kyiv, what were the causes for their conflict, and why Mikhail started filming independently. It will also tell about the 1929 Kyiv because "In the Spring" is the first film fully dedicated to Kyiv. There, the city is a protagonist that played its part so well that "In the Spring" is now considered a masterpiece of Ukrainian film avant-garde.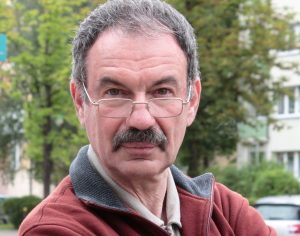 [unarchiving] is the project of informal presentations of sets and collections of the Urban Media Archive to promote and mainstream the problems of archival heritage in the community. We are committed to shape new attitudes on archiving and present historical collections in an unusual perspective. The events from the series include public viewing and listening to visual, audiovisual, or audio pieces that could use a different format from academic settings and create an atmosphere of free reflection and discussion, as well as combine popular formats and archival historical collections. It will be the nights of cine-music or photo-music, film screenings, photo presentations, and other events representing a dialogue of the present day and the past times.