Ukrainian Popular Science in Habsburg Lviv, 1892–1914
Martin Rohde 
University of Innsbruck
September 25, 2018/ 4.00 pm
Library, Center for Urban History
The early 20th century saw an immense transformation of modes of science communication all over Europe. This was closely related to defining and redefining the role of science for the public and vice versa. However, aspects such as space, language and political context were crucial categories for different forms of and ideas about popular science and education. Instead of transplanting theories, every case has to be historicized. Therefore, this paper picks op on the specific situation of the Ukrainian national science movement in Habsburg Lemberg.
Early Shevchenko Scientific Society (NTSh) was a circle of conservative narodovtsi. Since the late 1890s, a younger generation of Mykhailo Hrushevskyi's pupils joined NTSh, as well as former radicals were allowed to participate. However, the relation between these groups remained problematic, as not only their political goals, but also their understanding of science and its purposes varied. A hasty organized and in many ways problematic summer school in 1904, which did not feature one of the conservative scholars, serves as a vivid example of this fraction. This lead to further diversification of groups interested in (higher) public education.
Based on these given problems, this paper aims to investigate perspectives and limits of Ukrainian public education with a special emphasis on the diversifying intelihentsiia in Lemberg. Did this diversification lead to other schemes of communicating scientific knowledge than Hrushevskyi's concept of Ukrainoznavstvo (literally "Ukrainian Studies")? This paper calls for a historical reconstruction of a plurality of groups interested in science, based on the hypothesis that regionalist views on the matter are marginalized in contemporary treatises.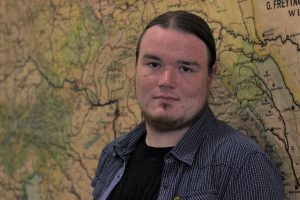 The event has a format of a workshop, with the guest researchers to discuss academic projects and research works on different stages of progress, and of the completed projects prepared for print.
Participation in the Urban Seminar implies reading and discussing the researcher's text. If you wish to join the workshop, please, send an email to Iryna Sklokina ([email protected]) to receive the materials in advance.
Credits
Сover Image: The building of the Academic Gymnasium, 1925-1930. Collection of Ihor Kotlobulatov / Urban media archive