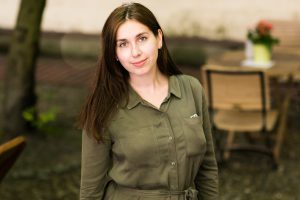 ---
She was awarded her Master's degree in history at the Ukrainian Catholic University (2017). A PhD student in the Ukrainian Catholic University (Faculty of Humanities) and in the University of Wroclaw (Institute of Art History).
In 2015-2016, under the scholarship from the European Federation of Catholic Universities, she stayed on the internship program at the Institute of Art History in the John Paul II Catholic University of Lublin. In 2017-2018, she participated in the scholarship program for junior research fellows supported by the Government of the Republic of Poland. Her PhD thesis was supported by the Visegrad Fund. The topic of the research covers urban changes in Halych suburb in Lviv, its sociotopography, and perception of space in the long 19th century.
Research interests: urban studies, perception of space, art networks in Lviv, and their manifestations in the city's public space.
As part of the Lviv Interactive project, she published the history of the General Regional Exhibition in Galicia: preparation and the visitor impressions, and a piece about the Society of Friends of Fine Arts in Lviv before 1914.
At the Center for Urban History, she is a researcher and a history editor of the Lviv Interactive project.