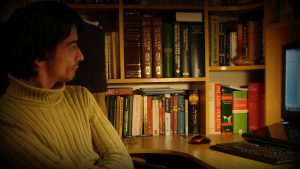 ---
In 1998 Andriy graduated from Lviv Ivan Franko National University (English philology, honours degree). In 2001-2003 he studied at the Center of the Italian Language and Culture at Lviv Ivan Franko National University. In 2008 he was invited to the Ezio Aletti Research and Study Center at the Pontifical Oriental Institute (Rome, Italy) as a guest participant.
Beginning from 1999, he worked as a freelance translator. His translations were (or are to be) published in various publishing houses (Svichado, Skrynia, Vydavnytstvo Staroho Leva, Nard) and in Vsesvit and Ukrainska kultura magazines. He cooperated with the Society of Jesus in Ukraine and with the Open Culture Foundation (Lublin, Poland). Andriy translated into Ukrainian over 40 books, including works by St. Ignatius of Loyola, St. Teresa of Avila, St. John of the Cross, C. S. Lewis, Anthony de Mello, Henry Nouwen, Jean Vanier, card. Tomáš Špidlík, Angela Nanetti.
In 2012-2013 Andriy was one of the METAPHORA Prize winners (translations of essays by Umberto Eco, Aldous Huxley and Mark Twain). In 2014 he was invited to the jury of this contest.
He publishes extracts from his translations on his personal website. As a volunteer, he contributes to the "Wooden Churches of Ukraine" project.
Andriy has occasionally cooperated with the Center for Urban History since 2009, chiefly making translations for the Lviv Interactive project and taking part in the preparation of exhibitions, including The Past in "Digital": The City, History, and Digital Technology" and "The Great War 1914 - … Individual and Global Experience."
In January of 2015 he joined the Center's team on continuing basis as a translator.