Un/Archiving Post/Industry
20-31.7.2021
Pokrovsk, on the site of the Pokrovsk Historical Museum
Industrialisation is one of the key topics of the present day. The industrial experience, as well as its heritage and post-history, has informed Ukraine's urban space, local lifestyles, and economic relations. Industry generates, however, not only iron, coal, and machinery, but also cultural images of itself through cultural institutions such as Houses of Culture, factory newspapers, museums, clubs, and factory photo studios.
Visual media, like photos and video, produced images of dedicated workers and engineers, industrial successes, and production achievements. However, these same media were also used outside of industrial contexts: cameras and video recorders, which grew in popularity over the twentieth century, were used for recreational purposes, for making art and for sustaining relationships between people – in families, between friends and colleagues, and by amateur photographers in different places.
It is these diverse roles of visual media, as a tool for propaganda and violence, but at the same time an instrument of innovation, the social glue, entertainment and cultural production, that we propose to study during our summer school-residency.
Participants will engage with materials collected and digitized during the realisation of the project "Un/archiving post/industry". This collection originates with different institutions and private sources and digitized copies are held by the Media Archive at the Centre of Urban History www.uma.lvivcenter.org
The collection comprises, among other objects:
Official press photography of Pavlo Kashkel from 1950-1960 in Mariupol (3638 photos): industry; local history; portraits of heroes of industry and much more;
Press photos of Mykola Bilokin from 1970-1990s from Pokrovsk, which covers, among other topics, the era of perestroika and the miners strikes;
photography from 1970-1990s Pokrovsk: industry and urban landscapes
Wall newspapers from the Kostyantynivka bottle factory;
Company photographs from 1920-30s from the "Interpipe" company muzeum in Dnipro;
Home videos which document family celebrations, everyday life, childhood;
Video and photos from school life, detailing ideological forms of childrearing such as "Zarnitsa" paramilitary games;
Industry and local landscapes of Soviet Lviv in photos and cine-chronicles (around 7,000 videos);
Street life and the work of creative circles in Lviv in photos by Vil Furgalo from 1980 to 1990s;
Postcards of nineteenth and twentieth centuries from Mariupol;
Collections of family photography from Hughesovka (gifted from the Glamorgan Archives;
And other materials, including interviews with owners and creators, archival lists of collections, etc.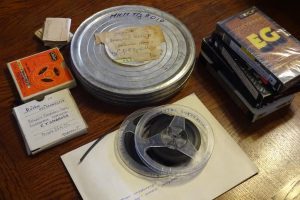 Credits
Cover image: Collection of the Mariupol Local History Museum // Urban Media Archive of the Center for Urban History