Post-Socialist Political Graffiti in the Balkans and Central Europe
26.5.2023, 18:00
Conference Room of the Center for Urban History
We are pleased to invite you to the presentation of the book by Dr. Mitja Velikonja's book "Post-Socialist Political Graffiti in the Balkans and Central Europe" (Helvetica Publishing House). The book uses examples of political graffiti in the post-socialist Balkans and Central Europe to examine graffiti and street art as subversive political media.
The author of the book, Dr. Mitja Velikonja, professor of cultural studies and head of the Center for Cultural and Religious Studies at the University of Ljubljana, will participate in the presentation. The meeting will be moderated by Dr. Bohdan Shumylovych, art historian and researcher at the Center for Urban History.
Despite the rapid development of digitalization, graffiti remains a widespread and popular phenomenon, providing a vivid visual indication of cultural conditions, social dynamics and power structures in society with a few words or images, as well as provoking various reactions. By analyzing in detail "patriotic", far-right, football, nostalgic and chauvinistic graffiti and street art, the author examines who uses graffiti as a political media tool and why, and to whom/against whom it is directed. Dr. Mitja Velikonja theoretically analyzes the debate on political graffiti and street art to show different methodological approaches from four perspectives: context, author, work itself, and audience.
The book will be an important addition to the body of literature on (sub)cultural studies in the contemporary Balkans, transitology, visual culture, art theory, anthropology, sociology, and radical politics.
The meeting will be held in English with simultaneous translation into Ukrainian.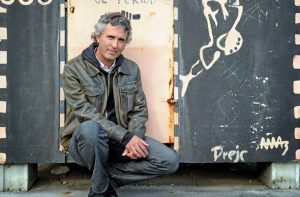 Credits
Cover Image: Ukrainian book cover / V. Savelyeva / Helvetica Publishing House
Gallery: Oleksandr Korman