Creativity and Cities: What an Attractive City Can Do for Us
March 15, 2018 /6.30 pm
Center for Urban History, Lviv
The image of a creative city and of creative economy is getting increasingly popular on global and local scale. Evert Verhagen is going to tell about key trends the ideas are following today. He will share the insights from the 40 years of his experience of implementing projects of revitalization of urban spaces. They include, among others, the efforts to renovate the premises of a large deserted gas plant in Amsterdam, the Westergasfabriek. It was transformed into a massive center of cultural life for local citizens. It took many years of significant efforts to establish communication between local authorities, businesses, and residents. Evert will focus on global trends in making economy creative, and on its impact on mass migration and the drain of young people from small towns, as well as on the role of awareness raising for this process.
The meeting will be a chance to talk about possibilities and threats offered by creative economy, and the need to account for local contexts.
The talk was moderated by Bohdan Shumylovych, researcher at the Center for Urban History.
The lecture was in English, with simultaneous interpretation provided.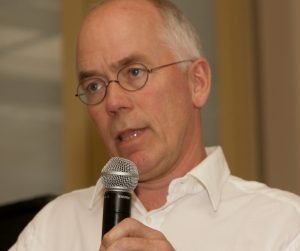 Credits
Сover Image: Evert Verhagen