The Urban Environment Of the Borderlands: The Impact of the "Zbruč Border" On Urban Life In the 1900s-1930s.
Serhii Humennyi
Taras Shevchenko National University of Kyiv
2.12.2021, 16:00
online / zoom
During the seminar, a study will be presented on urban communities of the Above-the-Zbruch region (present-day Ternopil and Khmelnytskyi regions) in extreme and untypical settings of the state border (for the rest of Galician and Podillia urban communities). From 1772, it was the Austrian-Polish border, in 1794-1918 – Austro-Hungarian-Russian (with a short break in 1807-1815, when the "Tarnopol Territory" belonged to the Russian Empire), and from 1918 to 1939, it was a Polish-Soviet border. The proposed material is part of the thesis devoted to illegal migrants on the "Zbruch border" in 1921-1939. The research aims to consider the mutual influences of the urban environment and the "Zbruch border" as a determinant in the formation of a certain cultural, linguistic, and behavioral flavour of the borderlands, which was manifested in the emergence of new influential social roles, such as package deliverer (smuggler), escapee (illegal migrant), and border guard.
In his study, Serhii Humennyi analyzes the factor of how border localization affected all spheres of life of Ukrainian, Polish, and Jewish communities of towns. He explores into how it changed their planning, how it contributed either to economic growth or stagnation and eventually created a whole myth of the "Zbruč border" in Polish historical science and mentality of local residents (which remnants can still be observed today, although it is getting harder to notice them).
The researcher proposes to consider the cases of settlements divided by the border (Toky-Ozhyhivtsi, Volochyshche (Pidvolochysk-Volochysk), Tarnoruda, Krentsyliv-Krutyliv, Husiatyn, Zbryzh, Skala Nad Zbruchem-Volokhy (Dolynivka), Berezhanka-Mala Berezhanka) in order to distinguish the characteristic impact of the state border at a certain stage of its existence.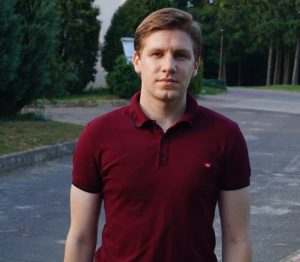 The event has a format of a workshop, with the guest researchers to discuss academic projects and research works on different stages of progress, and of the completed projects prepared for print.
Participation in the Urban Seminar implies reading and discussing the researcher's text. If you wish to join the workshop, please, send an email to Maryana Mazurak ([email protected]) to receive the materials in advance.
Credits
Cover photo: Fortress in the Skala Nad Zbruč. In the foreground, there is the monument "Pagurok" by Agenor Goluchowski; behind the tower, you can see the roof of the "kasarna" - the border infrastructure facility. Early 20th century" (Archiwum Główne Akt Dawnych, 1/425/0/4/D166)