International Science and Nationalist Politics: Shaping Architecture's Local Polish Character in the Late Habsburg Lviv
Olha Zarechnyuk
Center for Urban History
Inauguration of the reformed Technical Academy in Lviv in 1872 indicated that a compromise has been reached between its professorial milieu, Polish conservative politicians who brought about the Galician Autonomy within Austria-Hungary, and the Catholic church initially inimical to the promotion of science and technology. As the single Higher Technical School with the Polish language of instruction of its time, the institution went on to produce a specific technical community. These "technics" espoused liberal values, international scientific promotion, and cited philosophers of the Scientific Revolution and inventors as their primary source of inspiration.
However, being unable to reach an equal social and legal standing with university graduates for decades, partially caused by an underlying class conflict with the political elites led the Polish "technics" to justify themselves with a specific civic role. In their eyes, unlike university academics in ivory towers, it was their exclusive capacity to use science and its methods practically to raise human welfare. They saw this the only cure to the infamous Galician poverty and a way to provide a basis for a supposed restoration of the Polish state. In her paper, Olha Zarechnyuk traces how these contexts shaped contemporary architectural discussions within the technical community defining specifically regional and Polish character for architecture as well as its role in strengthening the local economy.
This seminar is based on the presentation prepared by Olha Zarechnyuk for the workshop "Building National Character: science, politics, and citizenship in 19th and 20th century Europe" ( University College London, Department of Science and Technology Studies, May 21, 2021)
Working language - Ukrainian.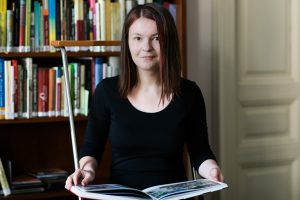 The event has a format of a workshop, with the guest researchers to discuss academic projects and research works on different stages of progress, and of the completed projects prepared for print.
Participation in the Urban Seminar implies reading and discussing the researcher's text. If you wish to join the workshop, please, send an email to Maryana Mazurak ([email protected]) to receive the materials in advance.