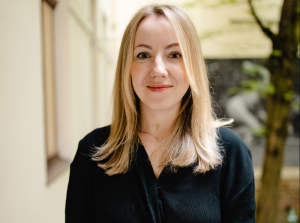 ---
Researcher, translator. Viktoriia graduated from V.N. Karazin Kharkiv National University majoring in English and German Linguistics and researched the phenomenon of transgression in the works of William Burroughs. In 2014 she went on to coordinate international volunteer projects under the auspices of Service Civil International, including archaeological (in a St Miklosz castle and Medzhybizh fortress), humanitarian (Making Peace in Ukraine: Collecting Stories in Kharkiv, Kyiv) and research-based (Research of the Far-Right Extremism in a Modern-Day Ukraine, (Berlin 2018).
In 2016, Viktoriia interned at UNA Exchange with the European Voluntary Service and studied the history of youth movements in Wales.
In 2018-2020, Viktoriia was awarded Erasmus Mundus Master's scholarship with Crossways in Cultural Narratives programme. She studied at the Universities of Tubingen, St Andrews, and Bergamo. In 2020 Viktoriia presented her Master's dissertation (The Influence of Street Art on Community Development in Kharkiv, Ukraine).
In September 2020, she joined the project "(Un)Archiving (Post)Industry" implemented by the Center for Urban History jointly with the University of St Andrews.