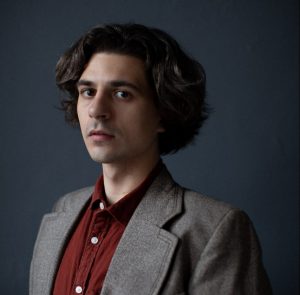 ---
He was awarded his Bachelor's degree in philology majoring in "Germanic languages and literatures (translation including), first - English" at Ivan Franko National University of Lviv, Faculty of Foreign Languages in 2020. He attained his Master's degree in 2022, having defended his Master's thesis on "Cultural Memory and Personal Identity in M. Ondaatje's novel "The English Patient."
He has experience in translating texts on various subjects, writing journalistic and fiction texts, teaching English, as well as editing and creating videos; worked as a customer service representative at Wow24-7 and as a barista in Rondo cafe. In 2022, he was engaged at America House Lviv in volunteer activities and at the Center for Urban History in the work of a shelter for people compelled to leave their homes because of the full-scale war between Russia and Ukraine.
Areas of interest: literary anthropology, cinema, English literature of the 20th century.
Since September 2022, he has been working at the Center for Urban History, where he is engaged in translation, and since 2023 he also manages the office.