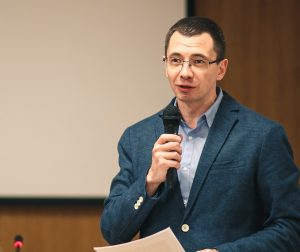 ---
Historian, visiting faculty at Central European University. Besides CEU, he teaches at the Ukrainian Catholic University in Lviv and the Karazin Kharkiv National University, Ukraine. He specializes in the business history of Eastern Europe, with a particular interest in the history of enterprises, collective action problem, big business, and industrialization in the Russian Empire. His book on company towns in Ukraine published by Kharkiv University Press in 2019 presents these settlements as a space of conflicting interests of businesses, workers, the state, and other stakeholders.
He is currently working on a project looking at the past as a resource for business organizations. He also contributes to projects exploring the transformative power of heritage for sustainable cities and communities in Central-Eastern Europe.
In the period from 2013 to 2016, in cooperation with the Center for Urban History, he was running the project "Industrialization and Urban Landscape of the Industrial South of the Russian Empire." The project aimed at researching how industrialization changed the image of the urban settlements of the Industrial South and how these changes affected the representation and meaning of urban landscape in iconographic sources. The collected materials were incorporated into the Center's database of visual images available for the public on the website.
Selected publications
Kulikov, Volodymyr. Pidpryjemstva j suspil'stvo v zavods'kyh i shahtars'kyh poselennjah Donbasu ta Prydniprov'ja v 1870–1917 rr. Kharkiv: Kharkiv University Press, 2019. 388 p.
Pracja, vysnazhennja ta uspih: promyslovi monomista Donbasu / Ed. Volodymyr Kulikov and Iryna Sklokina. L'viv: FOP Shumylovych, 2018. 264 p.
Kulikov, Volodymyr. "Necessity or Luxury? Welfare Work in the Company Towns of the Russian Empire." Jahrbuch für Wirtschaftsgeschichte / Economic History Yearbook 60, no. 2 (2019): 449-472.
Kulikov, Volodymyr, and Martin Kragh. "Big business in the Russian empire: A European perspective." Business History 61, no. 2 (2019): 299-321.
Kulikov, Volodymyr. "The Hundred Largest Employers in the Russian Empire, circa 1913." Business History Review 91, no. 4 (2017): 735-65.