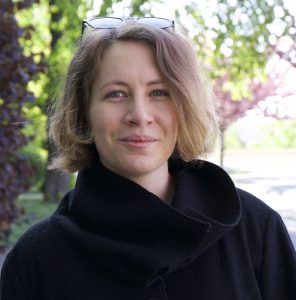 ---
She is currently a postdoctoral research fellow at the University of St. Andrews in the Department of Modern Languages, working on the project Donbas in Focus: Visions of Industry in the Ukrainian East. Her work focuses on cultural heritage regimes, the role of the state in cultural and memory policy, and on professional work in the context of rapid and drastical political and socio-economic change. She is a member of the Invisible University for Ukraine initiative at the Central European University.
Diána obtained her MA (2013) and PhD (2020) degrees at Durham University. She was a guest researcher at the Center in 2015-6, and a junior researcher at the Max Planck Institute for Social Anthropology between 2014-8. She was an external affiliate at Vienna University at the Doktoratskolleg Galizien between 2017-9.
She has been involved in a number of applied heritage projects like Open Heritage, and in cataloguing Jewish heritage sites with UAV-driven 3D-modelling across Eastern Europe. She worked as a consultant for the British Council, and as a researcher for the Metropolitan Research Institute in Budapest. She taught at the Technical University in Budapest and at the University of Pécs. In 2020-21 she was a teaching fellow in public anthropology at University College London.
In cooperation with the Center for Urban History, Diána is currently involved in the 5 AM 24 February 2022: War Testimonies project, convening a seminar series and the accompanying podcast, conducting empirical research and offering research support. She is working on a book project about heritage politics in Lviv and Ukraine, using professional careers to analyse the aftermath of the dissolution of the USSR and ensuing institutional changes, and the post-Maidan polarisation through conflict and war.
In addition to her social and applied research work, Diána is a published author and literary translator.
Research interests: critical heritage, urban change, state transformation, empire, soft power, historical anthropology