Was There Architectural Criticism in Habsburg Lviv?
We invite you to a city walk with architectural history researcher Olha Zarechnyuk. Based on the biography of Lviv architect Kazimierz Mokłowski, it will be focused on buildings, architects, ideas, and practices he criticized in Lviv in the early twentieth century.
In 1904, Kazimierz Mokłowski wrote a series of articles for the Kurjer Lwowski newspaper, commenting on new Lviv buildings for a broad audience. These texts can be considered one of the first attempts at professional architecture criticism in Lviv. Examining the new railway station, the Industrial Museum, the still unfinished University Library, and some of the townhouses, the architect reflected on the problems of aesthetics, identity, and originality; he analyzed the potential of reinforced concrete and condemned the following of templates — in his opinion, Lviv architects mostly reproduced Austrian and German examples instead of trying to create something of their own.
Unlike most of his colleagues, Kazimierz Mokłowski was able to be independent in his statements. During his lifetime (1869-1905), he was expelled from the Lviv Polytechnic (1892), studied in Zurich, Berlin, and Munich, argued with Rosa Luxemburg at a socialist congress, worked as an architect, lost parliamentary elections (nominated by the Social Democratic Party), and wrote a book about vernacular architecture. After returning to Lviv in 1897, his renown as an uncompromising radical hindered his career opportunities. At the same time, his chronic illness progressed and limited his ability to move on his own. But even in this situation, he still had the chance to write about the architecture of the city where he lived.
To join the event, please, register. After registration, we will inform you about the meeting place.
The city walk will take 2 hours.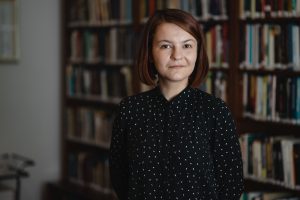 Credits
Cover Image: collage by Mariia Nizhegorodtseva