Russia's war against Ukraine is not only a war on the territory or against the people. It's a war on culture. It's a war preceded with ideological manifestos, shifts in knowledge and senses production structures, and the disintegration of the freedom of speech. The layers behind the surface of this war bring us decades and centuries in the past. 
In this project, together with critics and scholars, we are trying to analyze these backgrounds in Ukrainian and Russian history and culture and share it with international audiences in popular media outlets.
Unwinding Empire has two series of articles. 
The first one, curated by Dr. Sofia Dyak and Dr. Mayhill C. Fowler, focuses on the history and culture on the territory of contemporary Ukraine beyond the headlines, beyond the images people see every day in the news, to share the stories and analysis of experts on this region with a wider public. Highlighting the region's diverse and dynamic past, we hope to create windows for international readers into Ukraine, and Eastern Europe more generally. By offering stories such as constructivist architecture in Kharkiv to stories of resistance in World War II to our colleagues' complex family stories we highlight Ukraine as a place in its own right, and a place worth our attention. 
The second series, curated by Daria Badior and Anastasiia Platonova, focuses on contemporary culture in Russia and its global reach. As Edward W. Said wrote, "The power to narrate or to block other narratives from forming and emerging, is very important to culture and imperialism". For too long "Russian" culture has — in Said's term — orientalized Ukraine. We would like to delve deep into these long-held hierarchies articulated in the latest examples of art, music, films and literature, which are deeply connected to the ongoing war in Ukraine. We want to present a post-colonial stance on Russian culture. In this series, we also elaborate on contemporary Ukrainian culture makers, artists and writers, whose biographies and art help explain life in Ukraine over the last several years.
Published articles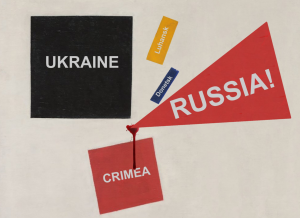 ABOUT CURATORS
Daria Badior is a freelance cultural critic, editor and journalist, co-founder of an NGO Coalition for Culture and co-curator of Kyiv Critics' Week film festival, in 2014-2021 a culture editor of online outlet LB.ua. 
Dr. Sofia Dyak (PhD) is a historian and a director of the Center for Urban History (Lviv, Ukraine) and a senior research fellow at the Center for Contemporary History in Potsdam. 
Dr. Mayhill C. Fowler (Ph.D) is a historian and associate professor in the Department of History at Stetson University, where she also directs the Program in Russian, East European, and Eurasian Studies, author of the book "Beau Monde on Empire's Edge: State and Stage in Soviet Ukraine" (Toronto, 2017).
Anastasiia Platonova is a journalist, cultural critic and editor with more than ten years of professional experience (Kyiv, Ukraine), in 2019-2021 a cultural editor of  Forbes Ukraine. 
The project is supported by  the Institute for Human Science / Institut für die Wissenschaften vom Menschen
Credits
Cover image: © REUTERS / REUTERS/Ricardo Moraes