Soviet Ukraine and the Transnational Architecture of Standardization
Dr Christina E. Crawford
Emory University Art History Department
9.11.2023; 18:30
Conference Room of the Center for Urban History
We invite you to the lecture by architectural and urban historian Christina Crawford. 
The lecturer will examine the historical context of the current destruction of industrial architecture in Eastern Ukraine by Russia. The example will be Kharkiv when it was the first capital of the Ukrainian Soviet Socialist Republic (1919-1934).
The lecture will discuss how, in the 1920s and '30s during Stalin's first Five-Year Plan for industrialization, Soviet authorities invested heavily in capital projects in Kharkiv and the Donbas, a territory rich in the natural commodities of iron ore, coal, and grain. A late-breaking decision to construct a tractor factory on Kharkiv's outskirts pushed Ukrainian architects to embrace intense design standardization not only for the factory but for its residential sector as well. New Kharkiv, the so-called socialist city designed by Ukrainian architects for tractor factory workers, utilized standardized housing, social service buildings, and even repeatable urban blocks to ensure swift construction. Industrial architecture innovations developed with the help of American technical consultants at New Kharkiv were then harnessed by the increasingly centralized Soviet planning regime to quickly construct other industrial enterprises in the region and to colonize far-flung sites across the Eurasian continent. The Azovstal Steel Factory in Mariupol, where Ukrainian soldiers made a final stand against Russian occupiers in Spring 2022, too, was a site enmeshed in the transnational exchange of architectural types in the early Soviet period. 
The research is based on two of her recent books, Spatial Revolution: Architecture and Planning in the Early Soviet Union (Cornell University Press, 2022) and Detroit-Moscow-Detroit: An Architecture for Industrialization, 1917-1945 (co-edited and co-authored with Jean-Louis Cohen and Claire Zimmerman, MIT Press, 2023)
This lecture acknowledges the success of design standardization as a system while questioning the ethics of comprehensive planning writ large.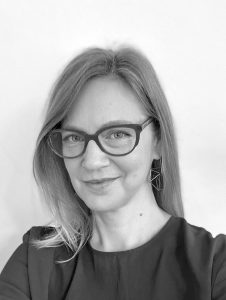 The language of the lecture is English, with simultaneous translation into Ukrainian. The event is organized in cooperation with the Kharkiv School of Architecture Reading Club. For a deeper understanding of the lecture topic, we recommend that you read two recent books by the lecturer. Links to the free books are in the registration form.
Credits:
Cover Image: Book cover for Spatial Revolution: Architecture and Planning in the Early Soviet Union. Ithaca: Cornell University Press, 2022.

Gallery: Olha Shakhnyk